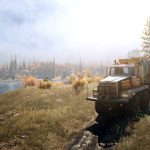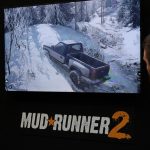 ---
Mudrunner 2 Will Feature Bigger Maps, Snowy Terrain, and More Licensed Vehicles
At its "What's Next" presentation last month, Focus Home Interactive (FHI) showed off Mudrunner 2. Now, the company is finally giving us some official details about its upcoming game.
For starters, Mudrunner 2 will feature significantly larger maps. Per FHI, each map will clock in at four times the size of the ones in Mudrunner. While not huge by any means, the larger maps should allow for great terrain variations in the game world.
One of those variations will make fans rather happy too. For the first time, players will no longer have to be content with just dirt and mud. With Mudrunner 2, FHI is introducing an Alaska map that is covered in snow and ice.
In addition to Alaska, players will also head back to Russia and to the Lower 48 in the US. Just where those maps are located still remains a mystery. Presumably, where ever they end up in their respective countries, they'll stick to mountainous regions.
While traversing the new, larger maps, players will also see greater detail. The foliage, buildings, and even the lighting have all been reworked. This will give a more realistic feel to the game and just look better overall.
As for the trucks, they're getting a rework too. Now each rig will come with a whole host of new add-ons and customizations. These include things like different suspensions, wheels, and even paint jobs. This means no more drab, rusty trucks, but rather something you can make your very own.
The add-ons are more than just visual as well. With Mudrunner 2, you'll need to outfit your truck for the job at hand. Picking the right combination of parts is essential to making sure your truck survives. Early information points to some of these parts including things like snorkels for water crossings and different tires for each terrain.
There are also new cargo types. With this, you'll need to pick the appropriate trailer or flatbed to haul whatever it is you're picking up. In some of the screenshots from the What's Next demo, we see cargo that features barrels and pallets. While not exactly Euro Truck Simulator 2, it's better than just hauling logs.
Finally, with the trucks, Mudrunner 2 will get more licensed content. In the American Wilds expansion pack, we saw the series add vehicles from Ford, GM, and Western Star. Now Caterpillar, Pacific, and GAZ will join up as well.
As for how the game will play, that's still up in the air. However, speculation on the FHI forums points to a more career-based experience. No longer will you just get a truck and haul cargo. You'll instead run a business of sorts that requires you to buy trucks and add-ons as you progress.
All in all, if you're a fan of the this particular niche, Mudrunner 2 is shaping up to be quite impressive.
Unfortunately, for right now there's no release date for Mudrunner 2. All FHI is saying is that the game will release in the fiscal year 2019 which goes through March 2020. But there is some good news. As of right now, FHI plans to release Mudrunner 2 on the PS4, Xbox One, PC, and even the Nintendo Switch.
We will be sure to bring you more information as it's released.